Reliquary Stoupa
Shamar Rinpoche's Presence at Dhagpo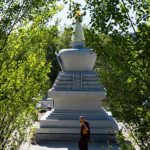 Just as the Buddha's relics were shared among his disciples and protected within several stupas, those of Shamar Rinpoche will be sheltered in the same way. Dhagpo Kagyu Ling's new stupa will be among those which welcome a part of his relics. Other parts are already conserved at KIBI, New Delhi and in the recently-inaugurated stupa at his center Bodhi Path Renchen Ulm in Germany. Others will be sheltered in the center Bodhi Path Natural Bridge, in the United States, as well as at Shar Minub Institute in Nepal.
The stupa has been built behind Dhagpo's Institute. The new space will offer a place to practice and to gather.
What are relics?
A relic is a fragment of the body (bones, teeth, etc.) or an object belonging to a great master or a holy person. According to Khenpo Chodrak Rinpoche, the Tibetan term for "relic" refers to the fact that it is "of great value, so great that it is beyond all price."
Such a stupa allows one to connect to the possibility of enlightenment through the presence and the blessing of an extraordinary being like Shamar Rinpoche.
Physical relics of a master's body also benefit us as a reminder that all beings, ordinary and realized, are subject to impermanence.
  Multimedia Archives: Blog and Construction Log Book
Jul 2018 10
On November 26, 2017, the stupa's definitive statue was installed. You can relive the moment below. Nestled in the heart of the stupa, this statue is the first statue of 14th Shamar Rinpoche created. Bénédicte Henicz, a French artist and disciple of Shamar Rinpoche, realized the statue with guidance from Jigme Rinpoche.
Here, she tells us more about the steps of its creation.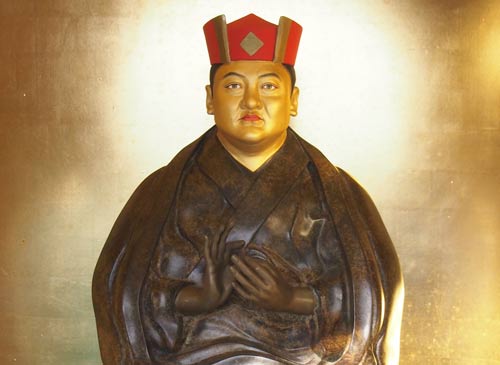 A quick overview of the Construction
Log Book
(Clik on the pictures
to open each gallery) 
Landscaping Around the Stupa Has Begun !
# 11 – February 2018
Consecration of the Stupa



# 10 – November 20, 2016
Inserting the Tree of Life



# 9 – November 2016
Bumpa Installation and Mandala Rituals



# 8 – November 2016
The Second and Third Levels of the Stupa



# 7 – November 2016
The First Level of the Stupa



# 6 – October 2016
Assembling the Base of the Stupa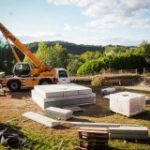 # 5 – October 2016
The Stone Arrives!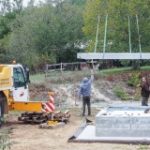 # 4 – Wednesday, October 12, 2016
Consecration Ceremony and Insertion of the Vases


# 3 – September 2016
The Foundations



# 2 – September 2016
Practice of Smoke Offering and Purification by Fire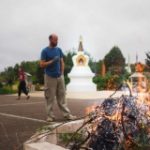 # 1 – August 28, 2016