The adventure of building a stupa begins with choosing the ideal location. Since the Institute's construction, Lama Jigme Rinpoche has expressed the wish for the erection of a stupa behind the building. Indeed, a sizable space is available to be adapted for this purpose and create a place predisposed for practice and meditation.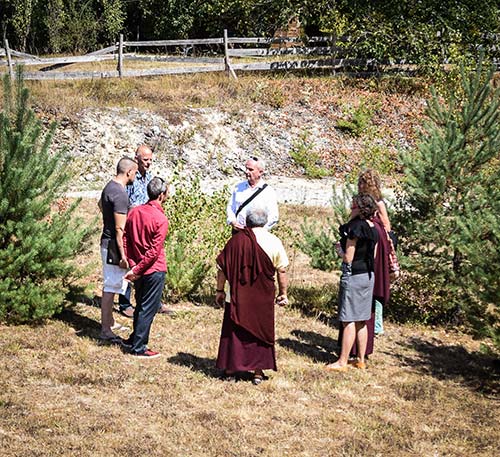 Dhagpo's team, assisted by Wojtek, an architect specialized in stupas, comes to analyze the space and determine the precise location and best orientation for the stupa.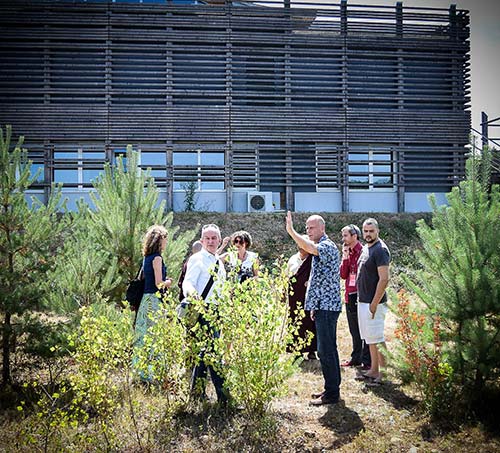 Several parameters must be taken in account: the topography of the land, accessibility to the site, and also the fact that, traditionally, a stupa must be oriented toward the east.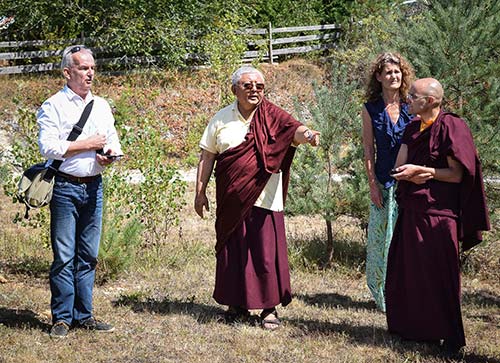 Lama Jigme Rinpoche verifies the details of the stupa's planned location and orientation in order to ensure that the project does not encounter obstacles and that the place will be adapted for practice.
These details prove essential, for a stupa is not an object that one can relocate on a whim. This support for practice and wishes will traverse the ages. Thousands of people across generations will come to make wishes and connect to the presence and blessing of Shamar Rinpoche at this site. Indeed, this first step merits such attention to its importance.
The first sketches of the site plan are drawn up. The project comes to life through the architect's handiwork and the involvement of Dhagpo's team.