Once the location and orientation of the stupa have been determined, a ceremony is carried out to consecrate the place. It happened on November 3rd 2015, on the day that celebrates the return of the Buddha from the gods realm in Tushita. This is actually very auspicious because it is precisely what the future stupa will commemorate.

This concerns the preparation of the site on a spiritual level, in other words assuring that all goes well from the construction itself to the environment of the stupa.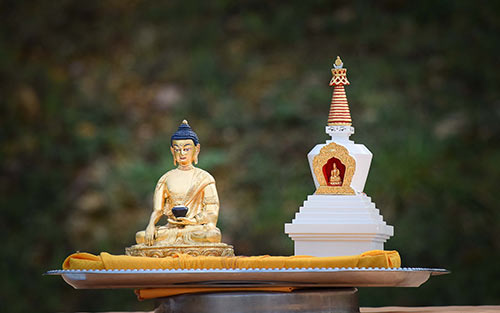 A temporary altar is set up with representations of the body, speech, and mind of the Buddha in the form of a statue, a text, and a tiny stupa, respectively.
Lama Jampa, who received the transmission of this practice from Lama Sherab Gyaltsen Rinpoche, came to share his knowledge and experience with the team and to train them in this ritual. A text composed by the 6th Shamar Rinpoche Mipham Chokyi Wangchuk (1584-1630 CE) is employed. It is the same text used by Shamar Rinpoche for the consecration of the site for Shar Minub. It consists of a text specifically destined for the consecration of sites where construction of a Buddhist nature will take place (temples, monasteries, stupas, retreat centers, etc.).
First, a sutra is recited, the Tashi Sikpa. Wishes are formulated such that all influences may be beneficial. Then, the ritual is carried out in several phases: first the purification of the place, then various phases of offering, including most notably the blessing of the tools which will be used for the construction and even a blessing for the workers. As all the tools and workers are not physically present, the individuals assembled as well as a shovel and pick brought along for the occasion are blessed symbolically.
Throughout the course of the ritual, the practice calls to imagine the future stupa and circumambulate it, as though it were already present, in order to concretize the intention for its construction.
The practice comes to a close with wishes for good fortune. The site is henceforth ready for the first stages of landscaping. The land must be terraced and otherwise modified in order to be able to welcome the stupa.