Join in!
A simple mean to take part in the project
The Project
The first phase of the project was estimated at €695 000.
We are happy and touched to announce that this sum has been raised in its entirety.
This outdoor practice area offers new spaces and, according to the wishes of Lama Jigme Rinpoche and Gendune Rinchen, other developments are on the horizon: the installation of two other stupas around the house of Lama Purtsela, the development of the rainwater collection basin to the left of the Institute, etc. (see the article dedicated to this subject for more information).
We have thus chosen not to close the financing of the Sukhavati Garden.
Also, if you wish, it is possible to continue your contribution to the project.
Here are the following steps (estimated amounts):
– Two stone stupas: €31 000.
– Development of the pond: €26 000.
– Arrangements around the stone stupas: €68 000.
– Renovation of the white stupa: €60 000.
Total provisional estimate (including the first phase): €880 000.
To date (05/06/2023), a total of €803 000 has been collected.

Thank you for your generosity!
Interested in participating?
You can: 
Make a donation.
See the Paypal form or contact:
Give fine jewelry or precious stones to ornament the interior of the stupas. For all questions concerning the filling of the stupas, don't hesitate to contact: stupa@dhagpo.org
Volunteer your time and skills according to the works undertaken (gardening, masonry, etc.). To this end, please contact: dkl.benevolat@dhagpo.org
Other ways to donate:
• Recurrent donations by bank transfer
• One-time donation: by bank transfer or check

All infos can be found on this generosity coupon.

 Alle Informationen finden Sie auf diesem Großzügigkeitsgutschein.
The Internet Paypal website is 100% secured and enables you to make online payment with confidence. You can renew this operation as many times as you wish.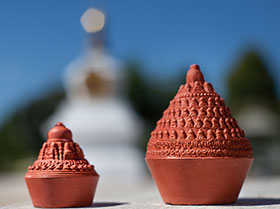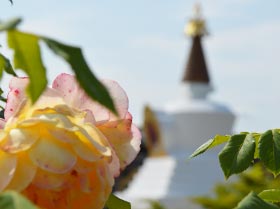 Joining the Constructing of the Garden for Meditation means:
Building supports for practice that will transcend the ages and be used by thousands of individuals.
Connecting to the possibility of enlightenment through the presence of the Buddha and of Kunzig Shamar Rinpoche.
Making available a pleasant and protected outdors area for those who would like to commune with themselves, each in his or her way. 
Participating in the diffusion of peace and harmony through emphasizing inner observation and an altruistic state of mind.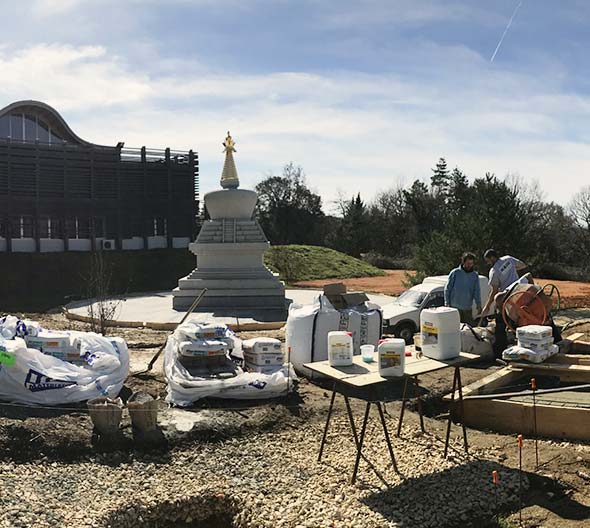 How is the stupa financed?
As with the Institute and other projects at Dhagpo, the goal is to connect as many people as possible to those supports of practice through donations, however modest they may be. After all, the stupa is a support for practice that will last through the ages and bring benefit to all those—Buddhist or not—who come to circumambulate and make positive wishes.
An amoint of 49 000 € is already available and dedicated to this project. We will keep you informed of the final cost of the project during the month of August.