Jul202019
As we previously announced, the work on the Meditation Garden has intensified. We are happy to share the latest news with you. The following video shows the ritual led by Jigme Rinpoche in the presence of Gendun Rinchen and Trinlay Rinpoche before the beginning of the earthworks; the arrival of two other stupas at Dhagpo; the machines now working everyday, and the mantra roll creation workshop.
Read More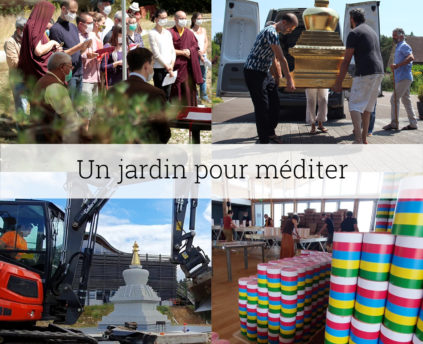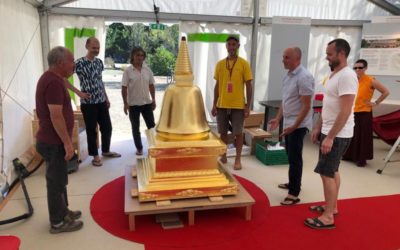 Two Stupas Arrive at Dhagpo
During this summer's visit from Trinley Thaye Dorje, His Holiness the 17th Gyalwa Karmapa, Gerard Guinot—the artisan behind the eight copper stupas—delivered two of them: The Reconciliation Stupa and The Parinirvana Stupa. Here is some information ...
Read More
Trees and Flowers
From April to October 2018; we began landscaping the area around the stupa with trees and flowers. Course participants and local volunteers of all ages made the most of the good weather, taking part in planting and get their hands dirty—all according to the precise indications given by Jigme Rinpoche, who took on the role of head gardener ...
Read More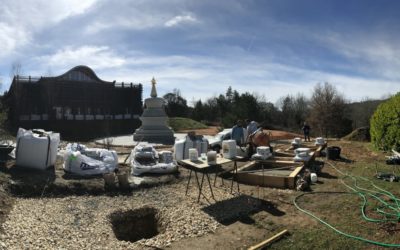 The Eight Stupas' Foundations
Volunteers from Dhagpo and others who live close by met up in mid-March to dig and pour the foundations for the eight stupas. They dug four rectangles and then poured concrete into them. In the center of the concrete pad, they left a cube of empty space, which will become ...
Read More